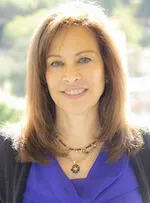 Research has shown that the most helpful, effective therapy depends on a good therapeutic relationship between the therapist and client. An excellent client-therapist relationship is the foundation of my practice.

I am very familiar with the demands and stresses people experience in their lives and in their attempts to balance their home, family, friends, and work expectations. For twenty years, I have helped adults, teens and couples achieve more satisfying and productive lives at home, school, work and in their interpersonal relationships.  I work from a strength-based perspective and believe that people have the ability to heal from past and present emotional challenges.

My therapeutic style has developed from my education, trainings, and clinical experience working with people of all ages and many cultures.  As a Licensed Marriage and Family Therapist (LMFT), I am licensed to assess, diagnose, and treat symptoms and behaviors using psychotherapy and counseling interventions. Before becoming a LMFT, I earned both my bachelor's and master's degrees with studies in psychology, human relations and marital and family therapy, and I continue to read and attend trainings in order to stay current on the latest research and to provide the best treatment for my clients.  My private practice office is in Encino, California, where I see adults and couples.   In addition to my private practice work, I have helped adolescents and their parents in mental health agencies, schools and residential settings.

I  provide a safe, supportive, nonjudgmental therapeutic environment for clients to share their stories, learn new ways to cope, heal and grow.    If you have any questions about psychotherapy with me, feel free to contact me with your questions or call to schedule an appointment.  I look forward to speaking with you about your interest in psychotherapy.